Finding Serendipity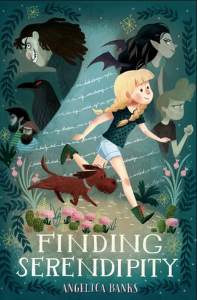 Tuesday McGillycuddy is the secret daughter of world famous writer Serendipity Smith. When she arrives home from school one day her mother is missing!!!! Her father tells her that her mother will be back by breakfast time, but she goes to find her mother anyway. By typing a few sentences of her own on Serendipity's typewriter, it transports Tuesday on a journey in the land of her mother's most famous character, Vivienne Small. BUT as she gets to Vivienne's world, her mother has already traveled home. Serendipity upon hearing that Tuesday is in Vivienne's world, accidentally awakes the villainous Carsten Mothwood from the dead, creating more trouble for Tuesday!!!! Will Tuesday find her way home????
I personally think this book deserves Five out of Five stars. For those who might have read it before, there is a book two coming out. Well, That's it!!!!
Keep Calm and Read On!!!!