It's too crooked to be true!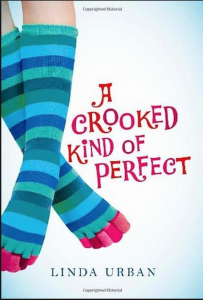 What an awesome book! I have recently finished a really good book called
"A  Crooked Kind of Perfect!"
It is the exact opposite of my life: Zoe wants to play piano but she has to play organ. But in my life I  want to play organ but I have to play piano! I think it is a good book for ages 7 and up!   If I had to rate it, I would rate it 4 1/2 stars out 5! So really it might even be a good book for some adults! (Even though it's about a kid.) I almost forgot to tell you what the book was about!  Zoe, as I mentioned previously wants to play piano but gets an organ instead. She has to juggle school, organ, and new friends, all while she prepares for her first recital. Can she tackle it all? Well I don't want to spoil it for you so….
Keep calm and read on!