1 of the Best Book Series for Ages 7-up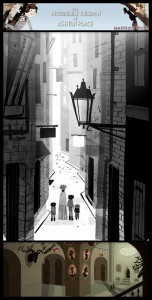 Hello! I have just finished re-reading an awesome book series,
The Incorrigible Children of Ashton Place
by Maryrose Wood. It has 5 Books so far, #6 to come out soon hopefully! In this series you get to know 3 children that were raised by wolves until found by Lord Frederick Ashton and are taken back to his Ashton Place.  A Governess is hired for them  and with her help, they gradually unlock secrets that reveal their mysterious past.  A MUST read from book 1-5 to find out how close the children and their Governess really are!
As if the books didn't provide enough entertainment, there is also a game site.
http://www.booksandgames.com/freegames/the-incorrigible-children-of-ashton-place-tower-of-london#
Keep Calm and Read On!